---
What is Interim Management and how is it different from Management Consulting?

posted by: Peter Roest | Managing Partner, April 16th, 2016
Interim Management is one of the latest forms of troubleshooting management techniques which has come into existence in recent years. In this paper, I will explain what Interim Management exactly is. Then I will go onto describing the critical difference between an Interim Manager and a Management Consultant. Lastly, I shall provide the reader with an overview of the Interim Management industry today.
According to the Interim Management Association, "Interim Management is the rapid provision of senior executives to manage change or transition".
In simpler terms, an interim manager is a highly experienced and specialized executive whom you can employ in your firm for a short period of time to solve a specific business problem. He is a master project manager and will not only act as a consultant and give you advice, but also solve the problem for you.
Let us take a hypothetical example to understand this better.
Company X has been performing badly for the past 5 years. It is a family run business and due to the internal politics amongst the family members, the company has lost its competitive edge in the market.
To make the situation worse, the Managing Director has suddenly resigned. Now, the Chairman of Company X realizes that the existing management team is inexperienced and incapable of running the company.
So, he has two alternatives. He can source and hire an existing senior level executive from another company and employ him or her on a permanent basis. But finding the right person uses valuable resources and takes a lot of time. In addition, the placement of a new senior staff member may cause further conflict between family members and insecurities in their roles, and they may seek work elsewhere. And worse, if the new executive turns out to be the wrong choice, removing him or her will be difficult.
The much better alternative is to employ an Interim Manager! Such an executive offers both past experience in short-term troubleshooting and company efficiency, and specialization in the particular field and can bridge the time required by the Chairman to identify a qualified external candidate or indeed identify and groom internal talent to take on the role full-time.
The Chairman will be able to select from a panel of executives deemed suitable by the interim management provider, and spend less time and money doing the legwork on his own. Existing employees will feel less threatened by the interim manager because of the limited time he or she will spend with the company.
An interim manager provides the solution to any number of problems in business. They are committed to their role as a short-term staff member and their varied experience in critical situations gives them a strategic advantage when handling new problems.
For a layman, it may appear that "interim manager" is just a fancy word for a management consultant. This is not the case! Some of their responsibilities do overlap, but there are very simple – and important – differences between them.
Let us investigate this properly.
What are the differences between Interim Managers and Management Consultants?
There is a vast distinction between an interim manager and a management consultant. Although on the surface they appear to be similar roles, their functions are quite distinguishable. Essentially, an interim manager is a management consultant, but a management consultant is not an interim manager.
Their core differences are outlined below: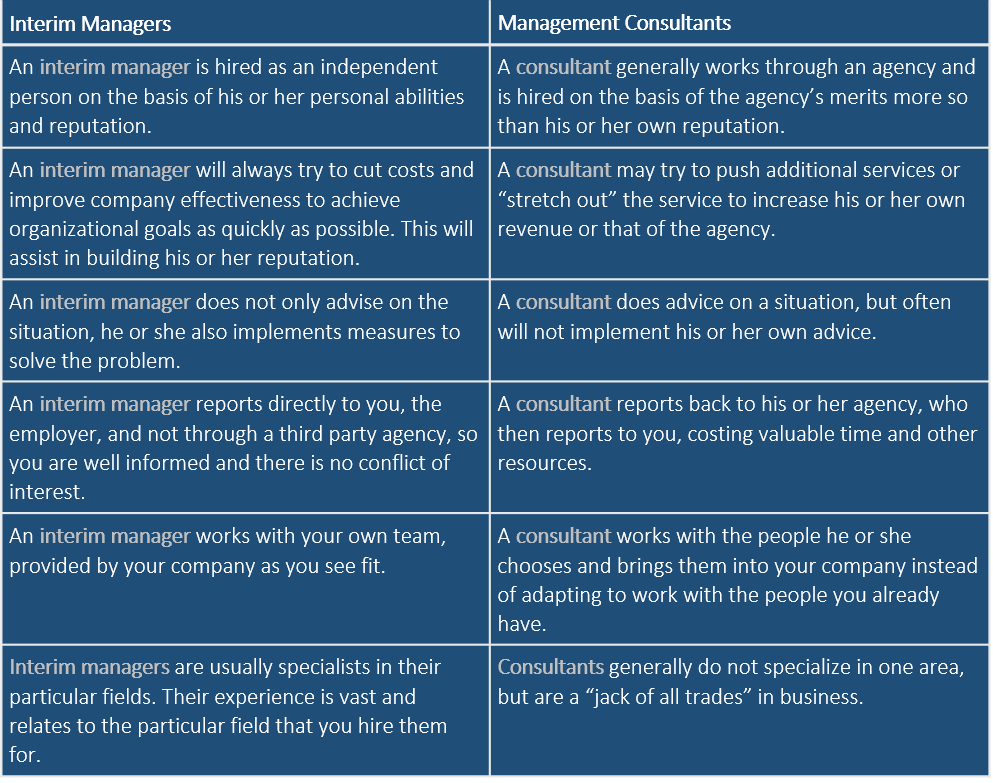 It is clear, then, that an interim manager is able to perform a far more specialized job for your company, using your own resources and reporting only to you. He or she does a "start to finish" job: overseeing the company's current operations, developing strategies for improvement and then implementing the strategies.
A recent survey of 100 senior directors reported that 78 per cent of them feel that interim managers are a better option than management consultants. What this all means is that the interim management industry is beginning to expand. Companies increasingly prefer interim managers to their consultant counterparts because of the more complete service that they offer.
Interim Management Trends
The interim management industry is a relatively new field. It was borne into the European market in the 1970s and 80s and is projected to grow further in the coming years. It originated in order to be able to provide fast, specialized top management service in times of company and management crisis.
For example, at the time of its introduction to the Netherlands in the 1970s, companies were dealing with long terms of notice and high termination pay-outs. The oil crisis had occurred and industries faced a major setback. As a result, highly skilled and experienced managers were required on an immediate basis in order to rebuilt companies that were failing. And so interim management was born. Similar situations have occurred in other countries in Europe. Over the past 20 years, the size of the market has grown steadily.
The interim management market offers different areas of specialization, and these have and these have different rates of demand. All are highly competitive. Areas with the highest demand are schools of Human Resources and Finance & Operations, which account for almost 20 per cent of all assignments. Lesser levels of demand are found in areas including Purchasing, Supply Chain and IT. However, the highest remuneration is for IT and Managing Director/CEO roles.
The public sector employs almost 20 per cent more interim managers than the private sector, but there is evidence of a gradual growth in their employment within privately owned companies. Interim mangers are beginning to enjoy an excellent reputation for quick and effective strategic management, and this is contributing to industry awareness.
The interim management industry as a whole has experienced excellent growth in the past few years and it is expected that it will continue to grow at an accelerated rate in years to come.
What does this mean?
Despite its relative youth in the management industry, interim management has grown steadily. There is an excellent opportunity for individuals to become involved in interim management while it is still growing – "on the ground floor", so to speak. There is basis for thinking that interim managers will begin to take over from management consultants as companies become even further specialized and have even more requirements for quick solutions.
Interim Management is here to stay!
originally posted on: www.interimmanagement.com
---