Sustained success in an IT enabled business
"Ensuring that your technology enabled business, whether that be a budding start-up or a long established mature business, continues to deliver."
by Charles Chirchir, 1st February 2017
Technology enabled business initiatives are a common occurrence in today's world. Examples include businesses that do all transactions online and use courier companies for fulfillment and in the extreme the entire service is online, examples are travel or accommodation reservation and online training services. The setting up of required technologies for such services are primarily business led and the project team implementing the IT solution is thus strongly focused on the desired business functionality.
An organisations' internal process usually guide such undertakings and depending on the level of maturity of those internal processes, the journey of bringing a new service into operation and resolution of issues that arise will have varying levels of structure.
In more mature organisations, new services typically transition from a project team to an operations team skilled in running services. Such organisations will have in place structures to categorise work into the various stages of strategy, design, transition and operations.
In start-up ventures, or organisations that are in early phases of maturity, the work is done by small teams, often made up of one or two individuals, who due to pressure may not rigorously categorise work into these stages. Teams involved in such projects are usually made up of deeply integrated entrepreneurial, business management and IT resources working together going through intense periods focussed on customer satisfaction.
During the early life cycle of such a project, the team resolves any arising issues with a laserlike focus on speed and immediate problem solving whilst simultaneously providing ongoing input and support to non-customer facing areas of the business.
Business growth in start-ups, when successful, is often exponential, as explained by Rogers depicted below, resulting in an increase in demand on IT services, also see Rogers Diffusion Theory: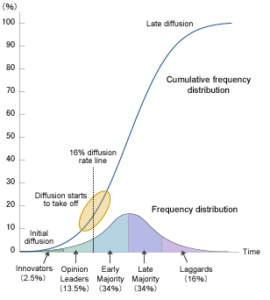 Exponential growth and the addition of features to grow the business offering, operating platform updates and upgrades, incidences that are technology related, requests related to daily operations, and the need for better managed IT to minimise business risk all begin to add up and scaleability becomes key to survival.
To aid a managed and relatively painless transition from start-up mode to full commercialization and a sustainable service offering it is imperative to pay attention to two aspects of any service, 'Service Utility' and 'Warranty'.
Utility typically refers to the function or feature that the business wishes to perform, for example process an order, or communicate an offering to clientele. Warranty is everything else that needs to be done to make the service usable, secure and responsive.
Warranty processes ensure that the service performs as anticipated and more importantly, address questions of additional capacity to address, oftentimes exponential increase in usage, action to ensure continuity in the event of disruption, availability at the stipulated hours of business and security. In a start-up, a service may have been dimensioned to meet anticipated demand, as the business grows, both aspect of the service, utility and warranty will need to scale up to maintain the same quality of service. A disciplined  approach in scaling up the IT service to avoid disruption of business operation that could lead to loss of reputation, and subsequently customers due to poor service will enable the business to optimise investment in IT.
For a growing and innovating business, structured management of IT will ensure:
– Service delivery within targeted, required and agreed-to service levels
– Prioritisation of demand
– An IT Investment strategy to support growth in line with the business strategy and performance
– Visibility of utilisation and service levels internally but more importantly from a customers viewpoint
As organisations mature, some of the initial assumptions or strategies may have changed, organic growth and solutions that served certain business functions could be consolidated or shared, the drivers in such organisations drivers may include:
– Cost avoidance & savings – cash allocated can be saved or reduced
– Higher IT productivity – increased productivity leads to reduced IT costs
– Increased Business productivity – resulting from higher quality IT services
Examples of outcomes of such interventions include:
– Avoidance of the high cost of redundant infrastructure investments
– Reduction of cost through idle capacity identification and re-allocation
– Identifying vendor credits and rebates
– Saving money on IT infrastructure maintenance renewals
– Proactive performance or capacity problem forecasting
– Increased network uptime and its associated increase in user productivity
What is critically important for any business leader is to recognise and apply intervention measures at the right time and maturity of the business for IT to continue to be a catalyst in creating value either as the business grows or during maturity.
---
Accelerate Evolution is well-positioned to assist organizations at different levels of maturity, from start-ups through to businesses with established processes and procedures, in that determination.
We offer advisory services identifying appropriate measures to be taken to mitigate IT risk to allow IT enabled client organizations to scale up rapidly enabling a swift and effective response to increased customer demand.
Contact us on information.technology@accelerateevolution.ae to discuss how we can help your technology enabled business build and maintain a sustainable IT platform that continues to support your growing business.